Our Theater Faculty members have been quite productive this summer! Here are a few highlights:
Jill Davis
Faculty member Jill Davis has had an "outdoorsy" summer designing the set for A MIDSUMMER NIGHT'S DREAM at Chautauqua Theatre Institution (Picture 1) which featured two of our CWRU/CPH MFA Acting Program MFA students: Courtney Stennett and Alex Brightwell. (Both MFA Class of 2020). [Picture-Featured Image of this Post]
Don Carrier
Interim Director of the CWRU/CPH MFA Acting Program, Don Carrier was down at the Texas Shakespeare Festival directing Shakespeare's OTHELLO which runs until the end of July (Picture Below)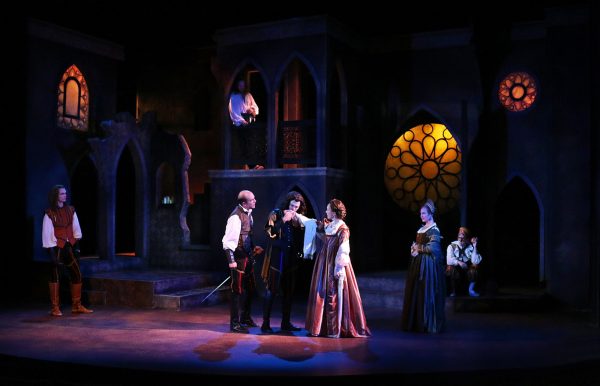 Angelina Herin
Faculty member, Angelina Herin has been working non-stop this summer. She began by designing costumes for 4 productions at the Texas Shakespeare Festival: AS YOU LIKE IT, OTHELLO, INTO THE WOODS and OTHELLO. She then moved on to Theatre Monmouth, where she is designing Ken Ludwig's BASKERVILLE. (Pictures Below)
Beth McGee
Professor McGee is seeing the world premiere of her interactive show, SHADOW OF THE RUN, PART 1: WANDERLUST. An exciting project, it begins July 25. Here is a link to further information regarding the project: https://www.shadowoftherun.com/…
Kevin Inouye
Faculty member Kevin Inouye has done fight choreography for Aida and The Adventures of the Black Girl in her Search for God for Karamu House, 33 1/3 for Dobama Theatre, Tom at the Farm with Convergence-continuum, and some fight and intimacy work for When Farah Cries for the Borderlight International Theatre Festival. Taught at the Allegheny Alley Fight, Kevin will be presenting a couple panels at the Association for Theatre in Higher Education coference in Orlando, and then heading to NYC to assist the choreography track at the Summer Sling before diving into classes and directing for the Fall. Mostly madly working on his second book.